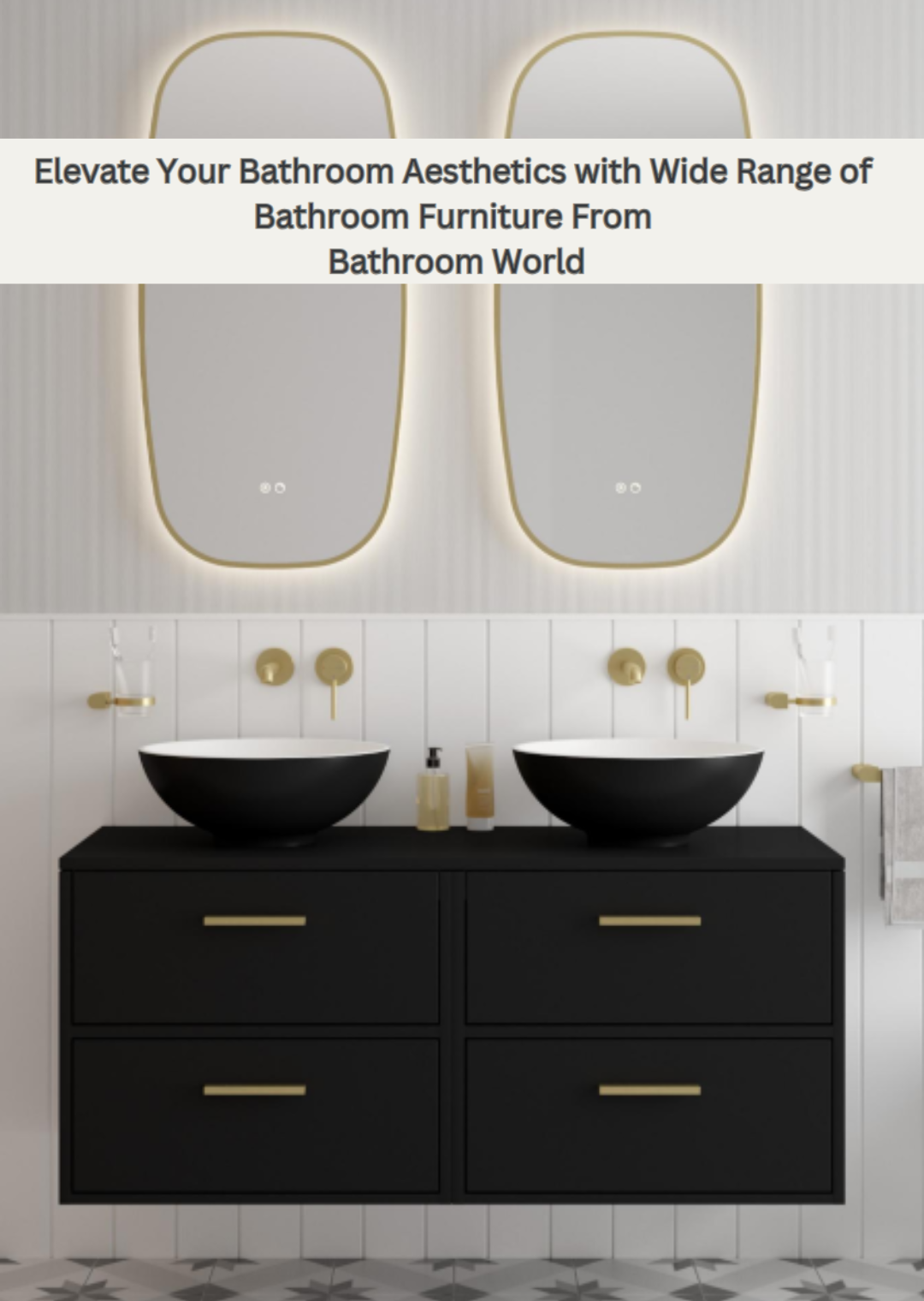 Your bathroom is not just a functional space, it is a sanctuary where you can unwind, rejuvenate, and escape from the daily stresses of life. To create the perfect bathroom haven, the right furniture is essential. Look no further than Bathroom World, where luxury and functionality merge seamlessly in our impressive collection of bathroom furniture. In this blog, we will explore the diverse range of handpicked designs offered by Bathroom World, and how we can transform your bathroom into a space of elegance and convenience.
The Art of Design: Explore Bathroom World's Exquisite Collection
Bathroom World takes pride in curating a diverse range of bathroom furniture that caters to various design aesthetics. Whether you prefer a contemporary, modern look, or a more traditional and timeless style, we have the perfect pieces to suit your preferences.
Vanity Units: Merging Style and Functionality
Vanity units are a focal point of any bathroom and play a crucial role in both storage and aesthetics. Bathroom World's collection of vanity units boasts captivating designs, sleek lines, and premium finishes in a vast array of colours to suit any palette. Customise your storage space with our ranges catering from space saving cloakroom units to our large double sink units and everything in between.
Storage Solutions: Organize with Elegance
A cluttered bathroom can quickly become chaotic and diminish your sense of relaxation. Bathroom World offers an array of smart storage solutions, including floor standing or wall mounted vanity units, WC units, wall columns and mirrored cabinets. These pieces not only maximize storage space but also add an element of elegance to your bathroom décor.
Premium Materials: Durability and Beauty
Bathroom furniture must withstand the humid and damp conditions prevalent in bathrooms while still maintaining their allure. At Bathroom World, our pieces are designed to stand the test of time, ensuring both longevity and aesthetic appeal.
Customization Options: Personalize Your Bathroom
Every individual has unique tastes and preferences, and Bathroom World understands this. We offer customization options that allow you to tailor their furniture to suit your specific needs. Choose from a wide range of finishes, colours, sizes and styles from our many suppliers to create a bathroom that reflects your personality.
Seamless Integration: Creating Harmonious Spaces
Bathroom furniture should seamlessly integrate with the rest of your bathroom décor, creating a harmonious and visually appealing space. Bathroom World's carefully curated collection ensures that their furniture blends effortlessly with your existing bathroom fixtures and fittings, resulting in a cohesive and sophisticated atmosphere.
The Art of Luxury: Pamper Yourself
A luxurious bathroom is not just about aesthetics; it's also about indulgence and comfort. With Bathroom World's exquisite furniture, you can create a spa-like experience in the comfort of your home. Immerse yourself in luxury with our freestanding baths, elegant furniture, stylish mirrors and premium quality accessories.
Expert Guidance: Making Informed Choices
Choosing the right bathroom furniture can be a daunting task, but Bathroom World's team of experts are here to assist you. Our knowledgeable staff can guide you through the selection process, offering valuable insights and recommendations to ensure you make informed choices that align with your vision. Why not contact Bathroom World @ bathroomworld@dpl.ie
for some advice or call into one of our 10 Bathroom World Showrooms in all of our DPL branches throughout Ireland.
Find you nearest showrooms here:
Showrooms
Your bathroom deserves the best, and with Bathroom World's exquisite collection of bathroom furniture, you can create a space that not only exudes elegance but also meets your practical needs. From vanity units that merge style and functionality to storage solutions that keep your bathroom organized, their range of handpicked designs caters to every taste and preference.

Elevate your bathroom aesthetics today with our premium furniture, and turn your bathroom into a haven of relaxation and indulgence. Browse our website to explore the full collection and embark on a journey of transforming your bathroom into a masterpiece of elegance and convenience.