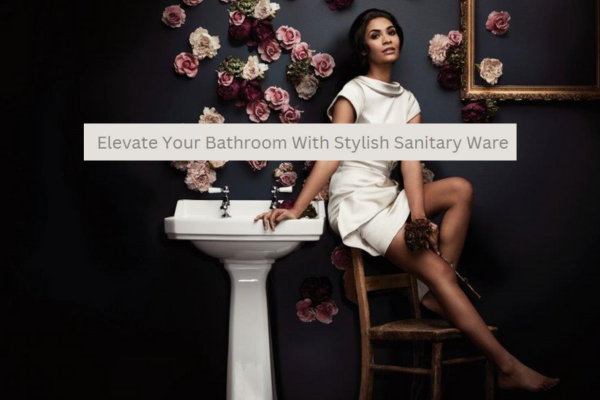 The bathroom is no longer just a functional space, it has evolved into a haven of relaxation and luxury within our homes. An essential component of any well-designed bathroom is the selection of the right sanitary ware. From sleek and modern to classic and elegant, sanitary ware plays a crucial role in enhancing both the aesthetics and functionality of the bathroom. In this blog, we will delve into the world of sanitary ware for bathrooms, exploring the various options available and providing insights into making the best choices for your space.
Types of Sanitary Ware
Sanitary ware refers to the various fixtures and fittings in a bathroom that facilitate personal hygiene. Here are some common types:
Toilets
Toilets come in various designs, including the traditional types such as high level or low level toilets, the more modern types such as close-coupled, fully shrouded and comfort height or you could opt for one with a concealed cistern and choose a wall-hung pan or back-to-wall WC. Choose a style that complements your bathroom's overall aesthetic.
Basins
Basins, or sinks come in many styles with all manor of different shapes and sizes. Bathroom World can offer a wide range of colours and finishes too. Choose from and elegant matt coloured counter top vessel basin, a semi recessed basin, an under counter basin, a wall hung basin or why not browse our range of basins with full or semi pedestals for a more traditional style?
Consider the available space and your usage preferences along with aesthetics when selecting a basin.
Baths
If you are looking for a touch of luxury, a bath can be a fantastic addition. Our wide range includes free standing baths, whirlpool baths, single ended or double ended baths, corner baths and even steel baths. Your bath can create a focal point in your bathroom.
Why not add some coloured bath panels to elevate the look of your bath.
Showers
Showers have become more than just functional spaces. You can opt for a walk in shower enclosure with a slate tray in a range of stylish colours with wetroom panels in a range of different finishes alternatively you could opt for a low profile or standard height shower tray with many options for your shower doors such as a bifold door, hinged door, slider door or a quadrant enclosure.
Choosing the perfect showering kit is easy with Bathroom Worlds wide range of concealed or exposed shower valves, choose your fixed rain head and riser rails or shower handsets We supply dual head exposed T-bar showering kits and riser rail kits which are available in so many different finishes and styles or choose an electric shower to transform your showering experience.
Bidets
Though less common in some regions, bidets are gaining popularity due to their hygienic benefits. Why not opt for a sleek wall hung bidet to elevate your bathrooms overall look.

Materials and Finishes
Sanitary ware is available in various materials, each with its own set of advantages:
Ceramic
This is the most common material due to its durability, ease of cleaning, and wide range of designs. It is ideal for basins, baths, toilets and bidets.

Acrylic
Used for bathtubs, acrylic offers lightweight options with good insulation properties to keep your bathwater warm.
Isocast Basins
For a seamless contemporary look in your bathroom why not finish your fitted furniture with one of our stylish and sleek Isocast basins. This type of basin is made in a mould giving it clean lines and sharper edges than ceramic basins.
Porcelain
Similar to ceramic but fired at a higher temperature, porcelain is known for its elegant, glossy finish and is often used for premium basins and toilets.
Design and Style
When choosing sanitary ware, consider the overall design and style of your bathroom:
Modern Bathrooms
Clean lines, minimalistic designs, and neutral colours characterize modern bathrooms. Wall-hung toilets and sleek basins with geometric shapes fit well in this style.
Traditional Bathrooms
For a classic look, opt for pedestal basins, high level toilets, and clawfoot free standing roll top baths. These designs bring a sense of elegance and nostalgia.
Contemporary Bathrooms
A blend of modern and traditional, contemporary bathrooms often feature vessel basins, freestanding baths with a modern twist, and unique taps and accessories to finish the look.
Conclusion
Sanitary ware is not just functional, it is an essential design element that can transform your bathroom into a stylish and luxurious space. From baths and showers to basins, toilets and bidets, the options are vast! At Bathroom World we pride ourselves on catering to a variety of styles, preferences and budgets. When selecting sanitary ware, remember to consider the type of fixtures, the materials used, the design, style and available space. By carefully choosing the right sanitary ware, you can elevate your bathroom's aesthetics and create a space that reflects your personal taste while ensuring optimal functionality.